Regular price
$2,399.00 USD
Regular price
Sale price
$2,399.00 USD
Unit price
per
Sale
Sold out
☕️【Electric direct fire heating  System】Heated by the carbons fiber infrared electric tube, the surface of the heating tube can instantly rise to 500°C. Plug and play; no gas is required.

☕️【Advanced temperature control】: Equipped with two precise temperature probes and an intelligent temperature control device, your coffee beans are roasted at the ideal temperature to release the best flavor—also a real-time recording of temperature profiles to help novices understand the effect of curve changes on the taste. 

☕️【Sampler for Sync-Observation】Patented by a horizontal sampler, it's convenient to pick up beans to master the roasting effect. The optimal capacity of a single roasting is 200g-600g, and the maximum is 700g.

☕️【Antomatic Chaff Collection System】Kaleido Sniper M6 has a patent on the chaff collection. This invention can effectively avoid the accumulation of Chaff dirt clogging phenomenon, easy to clean.

☕️【High RPM & Low Smoke Emission】Kaleido Sniper M6 has a high-speed drum and a built-in smoke extraction system to maximize the reduction of smoke emission. Meanwhile, Kaleido Sniper M6 uses an independent cooling system. It can be cooled quickly in 2-3 minutes.
Materials

304 Stainless Steel, Carbon fiber
Shipping & Returns

Free shipping & One-year Warranty
Dimensions

45*25*36 cm

17.7" * 9.8" * 14.2"
Specification

Input Voltage: AC 110V-230V

Output Voltage: DC 12V 800W

Optimum Capacity: 50g-400g
Share
View full details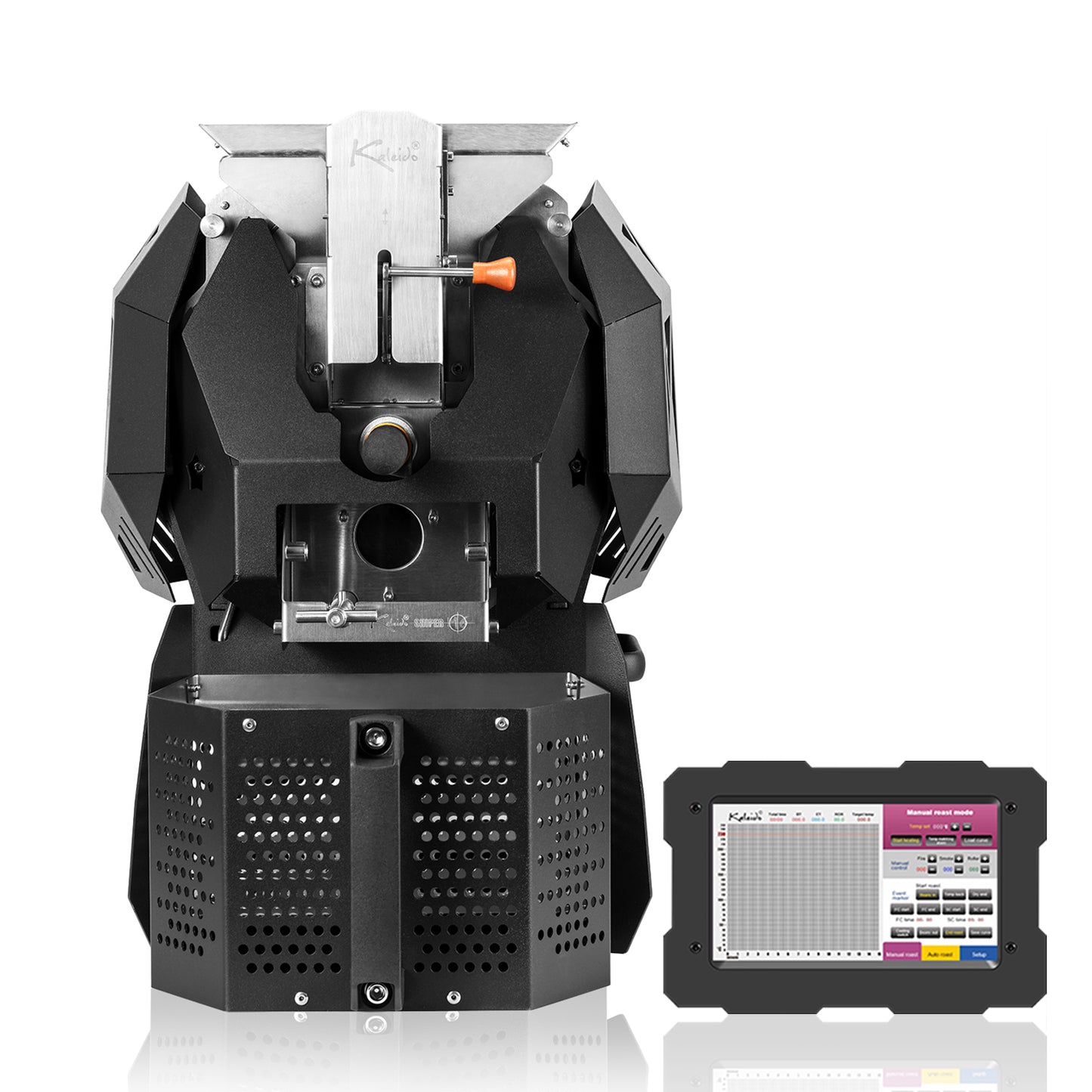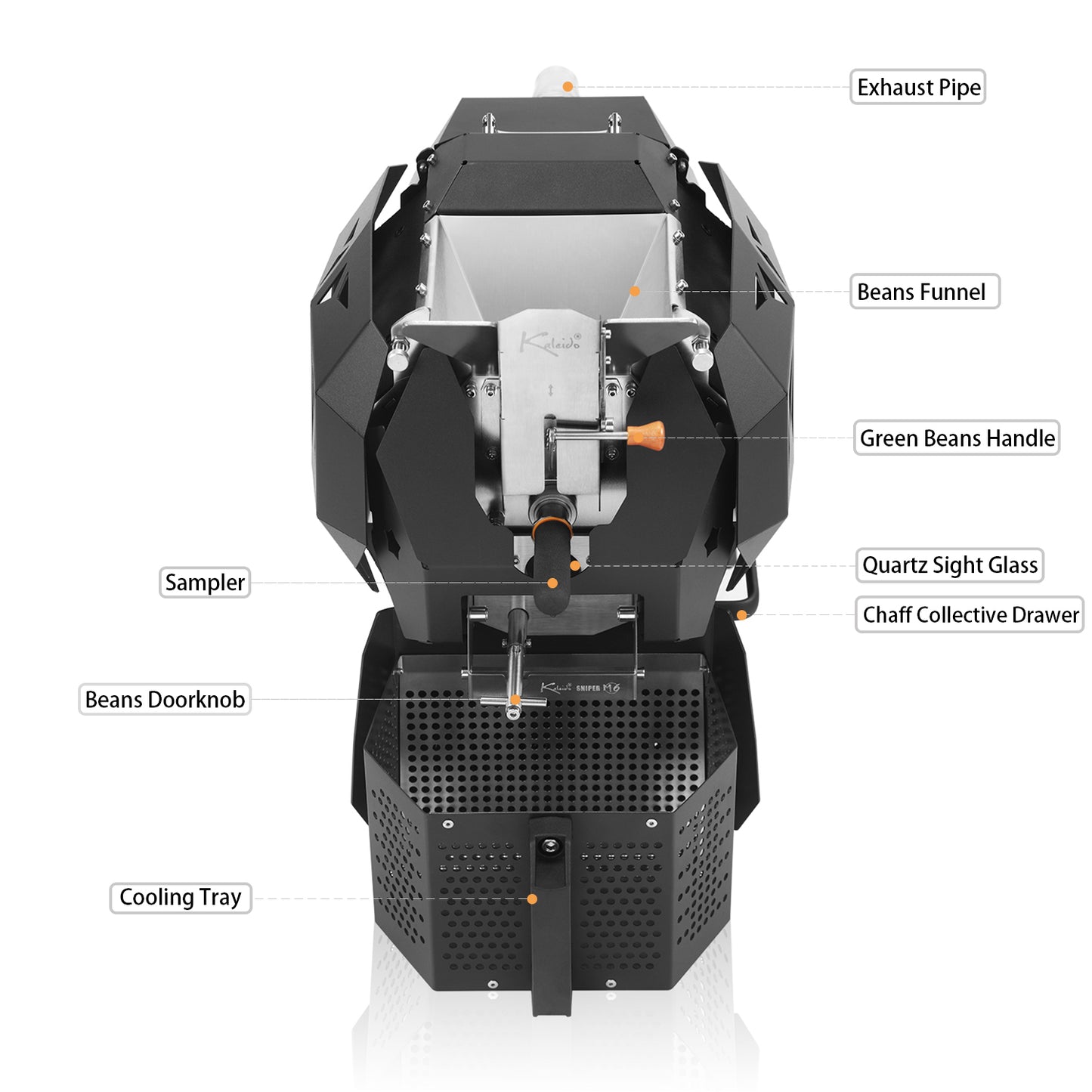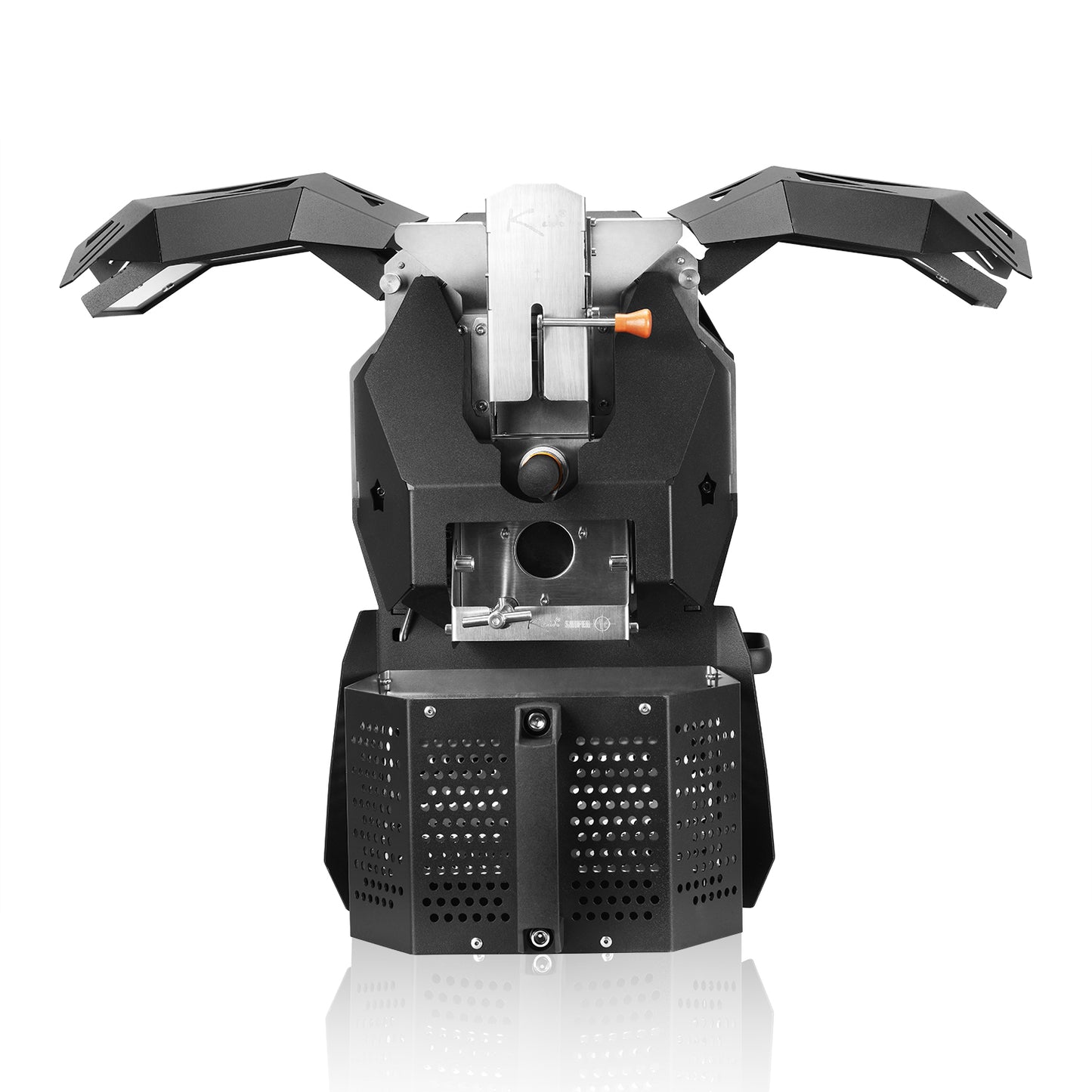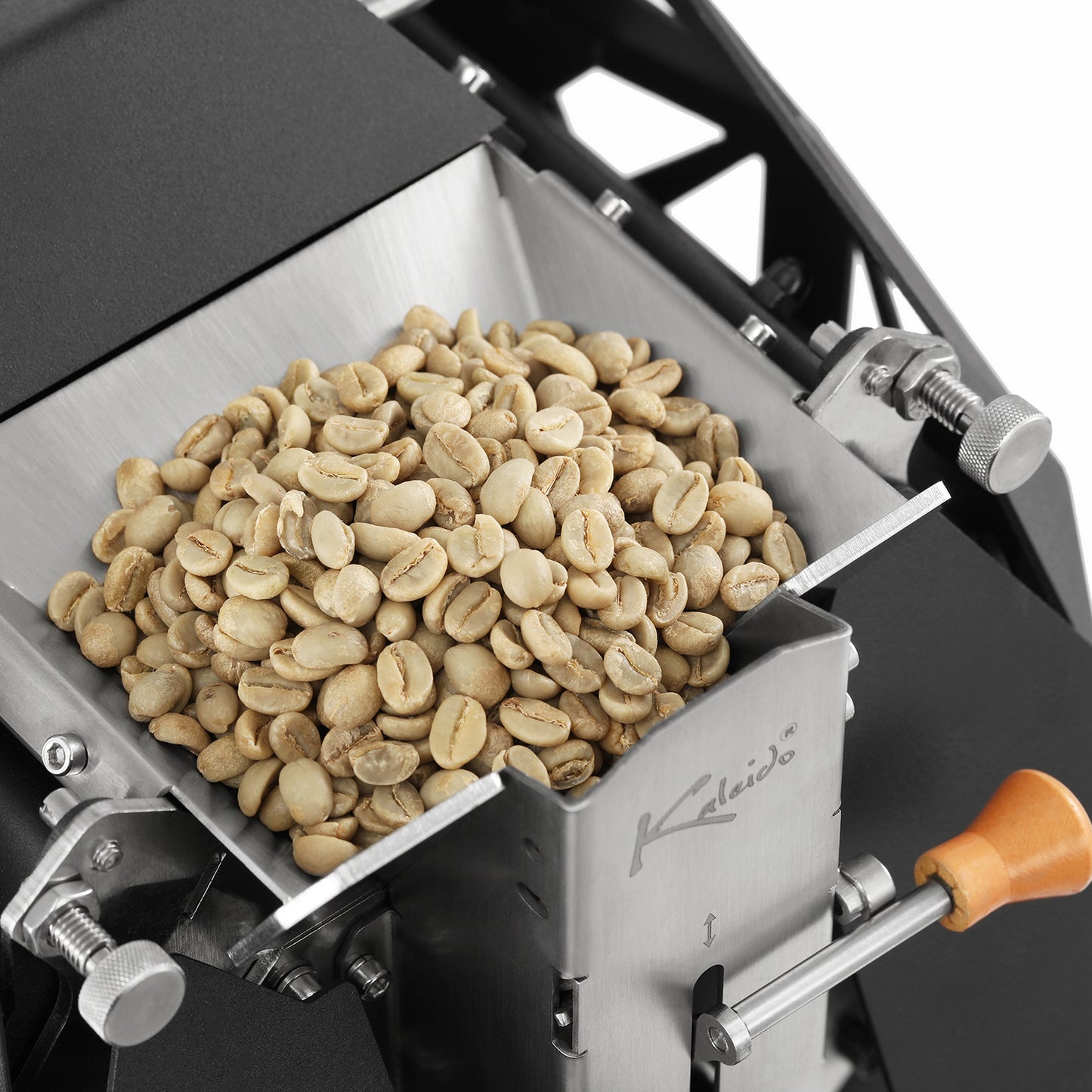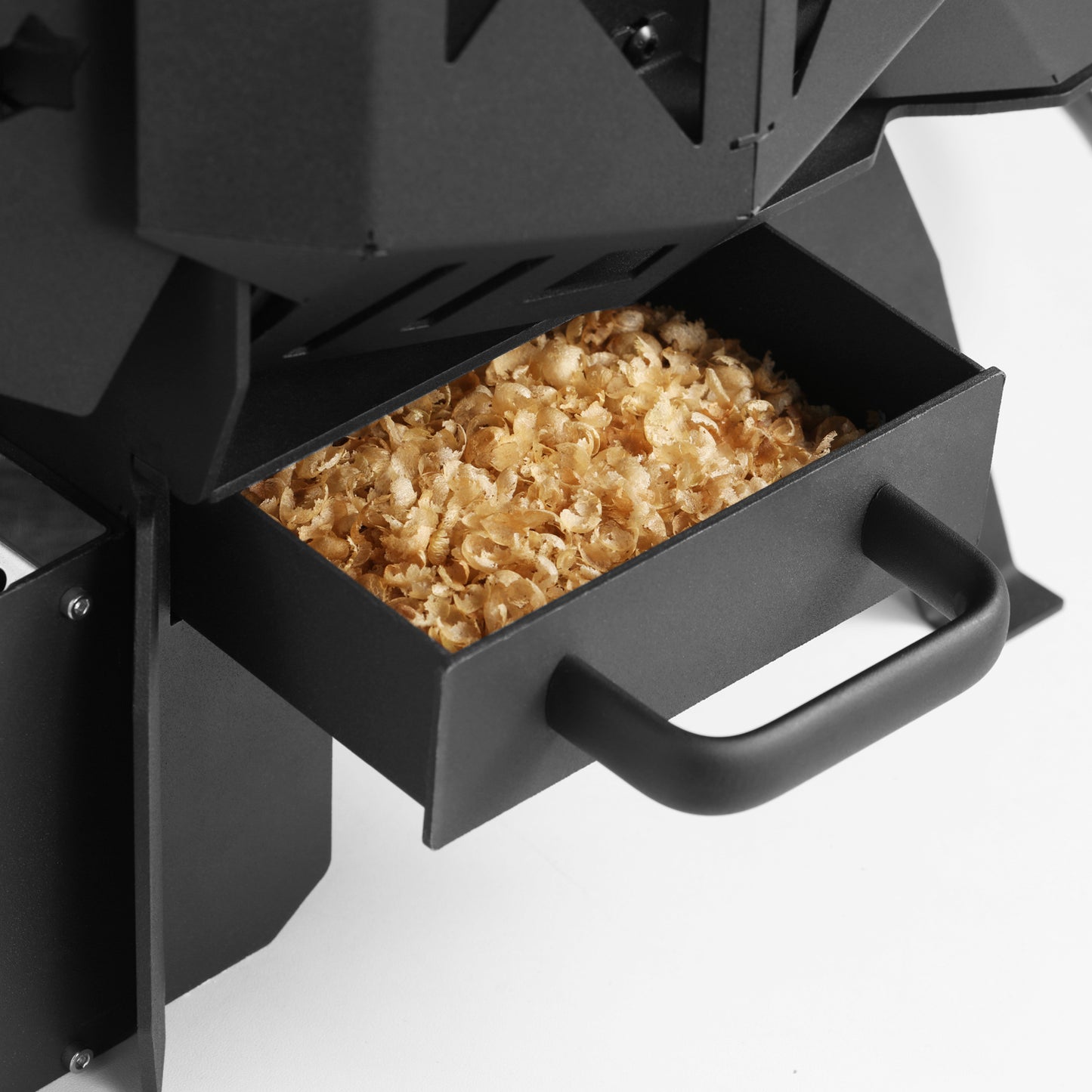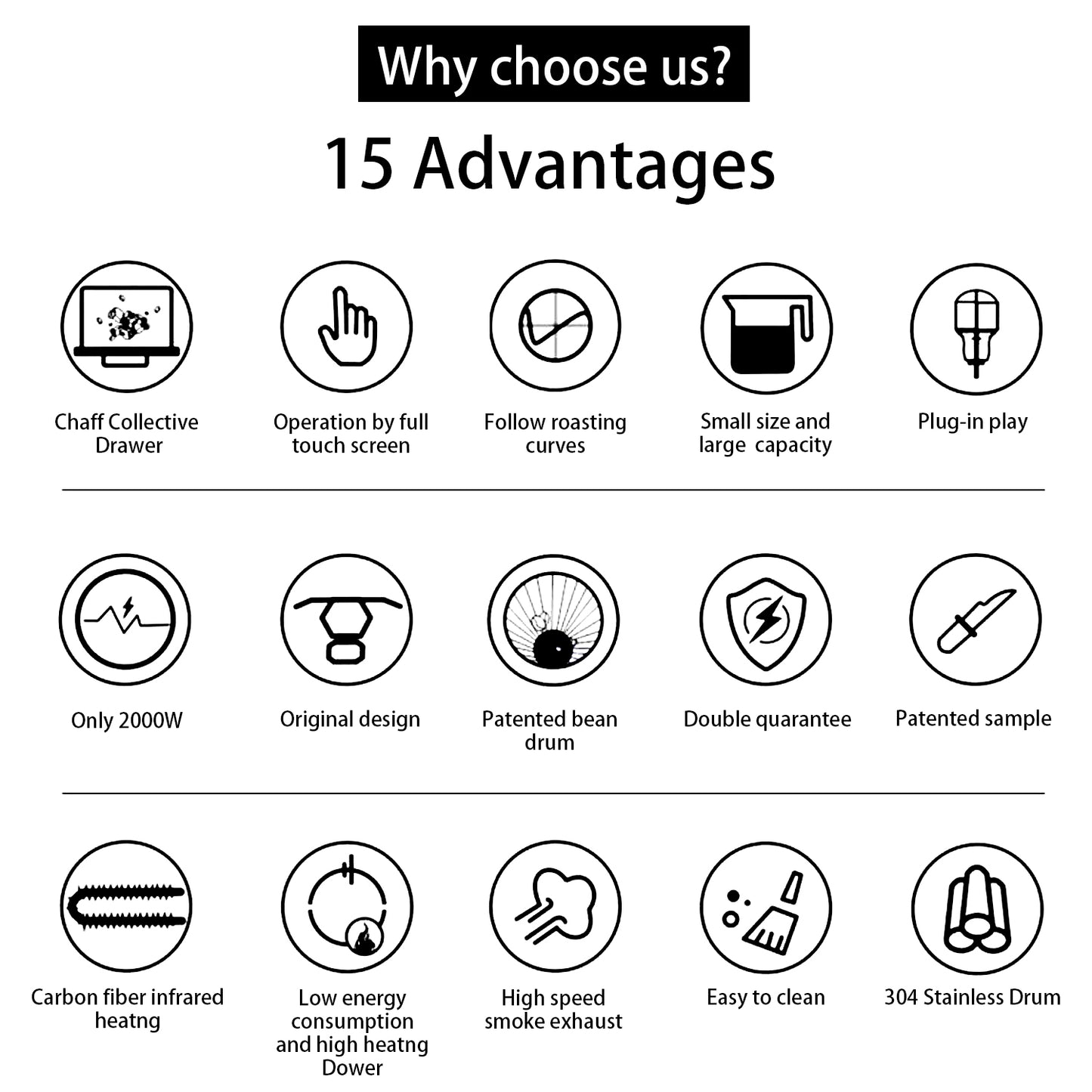 Product Description
Kaleido Sniper M2 Electric Heating Coffee Roaster

Fresh coffee beans are the ultimate soul of any coffee drink.

Kaleido Sniper M2 was born to bridge the gap between novices and baristas, making the joy of roasting accessible to everyone and enhancing the coffee experience.

Whether you are looking for a small home model or a medium-sized commercial model, you will find the right roaster in Kaleido.

Free Shipping & Hassle-Free Customs

Kaleido provide one-stop service, no need to worry about any shipping and customs issues

One Year Warranty

For any quality-related issues, we provide one year warranty with replacement.

Life-time Customer Service

If you have any issues with Kaleido, please kindly give us a chance to address your concern. Our global customer service team always stands behind you and our products. We value every chance to help our customers and promise we will reply to you within 24 hours.
Carbon Fiber Heating Tube * 2

The carbon fiber infrared heat pipe makes internal drum heat up quickly to ensure that coffee beans are heated evenly. The package comes with 2 heating tubes to cope with daily damage or higher power demand.

Flexible Steel Pillar & Drum

High speed drum makes even heating and every independent steel pillar rotates on its own, which helps separate pulp from chaff thoroughly.

Precise Temperature Probe

The air and bean temperatures are measured separately by two precise probes in real time, ensuring precise control of the beans within the exact parameters.

Semi-automatic Operation

The temperature curve will record every taste you like. The semi-automated Operation panel allows you to indulge and roast the beans at your own pace.

Effective Cooling Fans

The Kaleido Sniper M2 features a concealed design and independent cooling system with 2 cooling fans behind the bean storage, which cools the roasted beans in 2-3 minutes.

Chaff Collective Drawer

The automatic collective system makes beans pure and effectively avoids the accumulation of chaff dirt clogging.